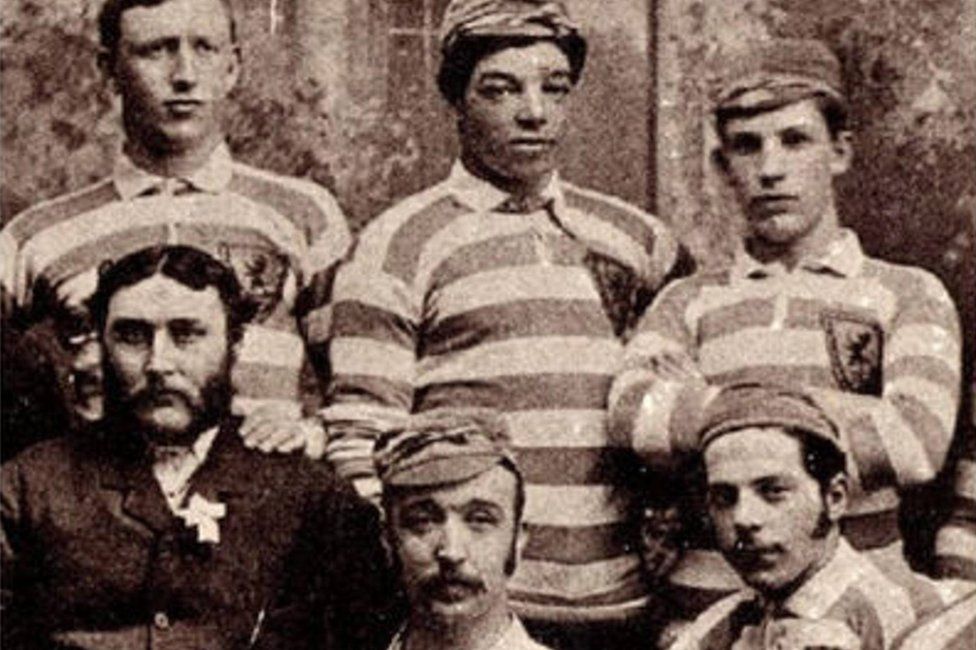 By: Reevel Alderson
Originally Published: June 18, 2021
As players "take the knee" before Friday's European championship game at Wembley in a stance against racism, few will realise Scotland was the first international side to field a black player.
More than 140 years ago Andrew Watson captained the Scots to a 6-1 victory against England, a record away win.
Born in Guyana in 1856, Watson came to Britain with his father who was a wealthy sugar planter.
As a student at Glasgow University, he played for a leading Glasgow club – Parkgrove FC, which was a rare example of racial diversity at the birth of the modern game.
Parkgrove, which played close to where Rangers' Ibrox Stadium is now, also featured another black player, Robert Walker and a goalkeeper who was half Chinese.
Watson was one of its leading administrators, bankrolling the club thanks to a large inheritance on the death of his father.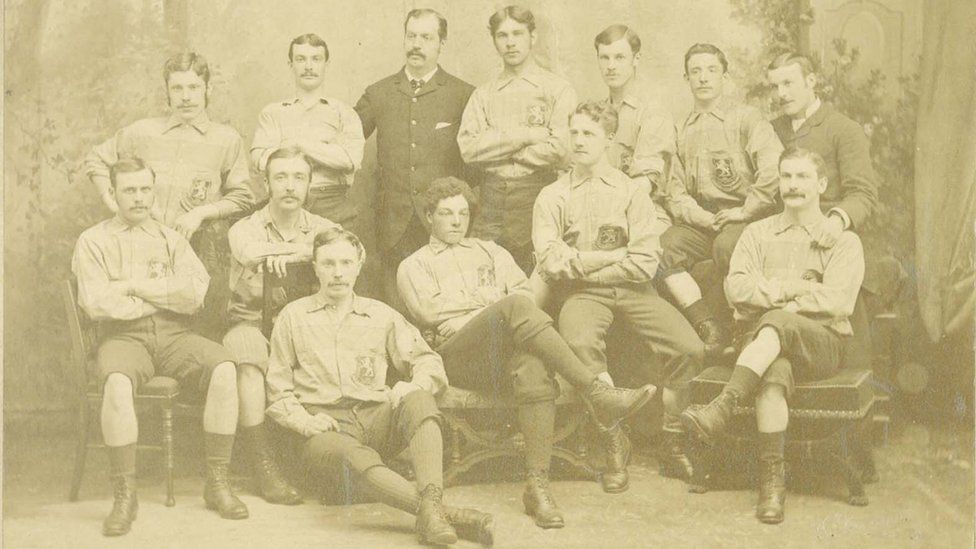 Richard McBrearty, curator of the Scottish Football Museum, said Watson was a top star in the 1870s and 1880s.
"Wherever he went, he was box-office attraction. Everybody knew who he was," Mr McBrearty said.
"You can look at particularly iconic black football players in the 20th Century – and there are great players like Pelé. Within the 19th Century context Watson should be at that level."
There are no comments in contemporary reports on the colour of Watson's skin – merely a match report distinguishing him from the other players because he wore brown rather than the usual black boots.
Football writer Connor Heffanan said: "Although it has made the historians' lives particularly difficult, the fact that Watson's skin colour seemed to be of no significance to his peers or the Scottish Football Association is in many ways a cause of celebration."
Playing for Queens Park, Watson was selected as one of five Spiders players in the Scotland team to play England at The Oval in March 1881, being named captain.
The Scots, playing a close passing game compared to England's concentration on individual dribbling, won 6-1 with Watson excelling at full back as the hosts fought back from losing an early goal.
The Field, reporting the match, said: "Another throw-in on behalf of England brought about some sharp work in front of their opponents' fortress, which Watson put an end to with a capital kick."
Watson was selected for Scotland's next two games against Wales, which they won 5-1 in Wrexham and against England in Glasgow in 1882, another 5-1 triumph.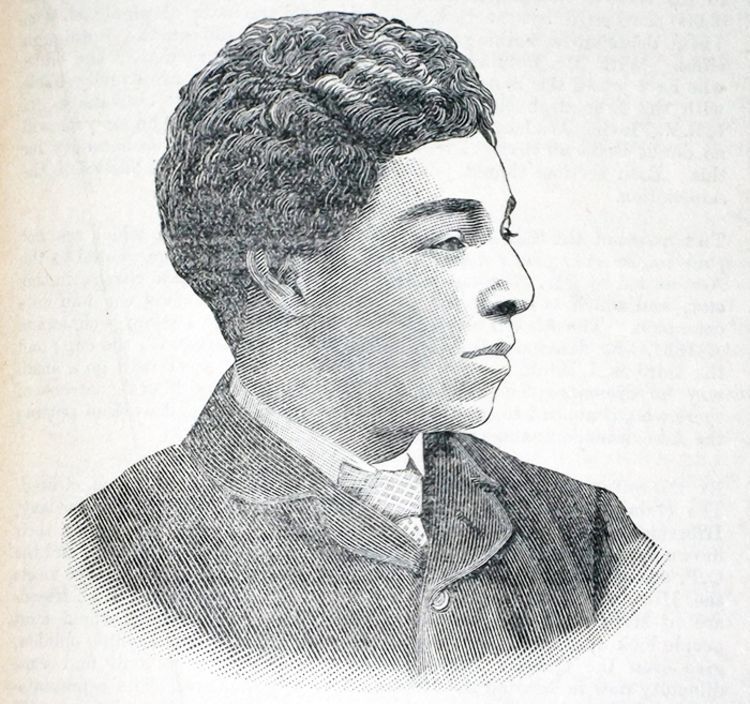 Watson was born on 24 May 1856, in British Guiana (now Guyana), the son of a sugar planter who was born in Orkney and a local woman.
When Watson's father died in 1869, he and his sister Annetta each inherited a considerable amount.
After school in England, Watson attended Glasgow University where he learned to play football.
While playing for Queen's Park FC, he became club secretary and won the Scottish Cup in 1881, 1882 and 1886 – the first black player to win a major competition.
He went on to play for Scotland but his international career ended when he moved to London as the Scottish FA only selected home-based players in the late 19th Century.
A professional player?
Watson played for a number of leading amateur sides in England before moving to Merseyside to train as a sea-going engineer.
Signing for Bootle FC, who along with Everton were the leading Merseyside team at the time, he was the subject of an FA investigation over claims that he had been paid to play in a cup match.
Although the allegations were thrown out, the suspicion has remained that he received wages and a signing-on fee as Bootle were known for paying several players.
Richard McBrearty said there was mystery about the move from star player to merchant seaman, which perhaps indicated Watson had run out of money.
"The rules regarding professionalism were very strict, requiring people to have been resident for a period of time before they could become professional players," Mr McBrearty said.
"Watson had not lived long enough in Bootle to legally become a professional player.
"If he needed the additional income by this time, it opens up the question of whether or not he was secretly being paid, and that would have made him the earliest black professional."
Arthur Wharton, of whom a mural was unveiled in Darlington in 2020 has previously been regarded as the first black professional.
Professionalism existed in Scotland at the time, but in England the game remained officially amateur.
The Lancashire Evening Post commented: "That several of the Bootle players have been brought over to play football and found situations is matter of common knowledge out Liverpool way and no doubt they have seen the last of cup-ties for some time to come."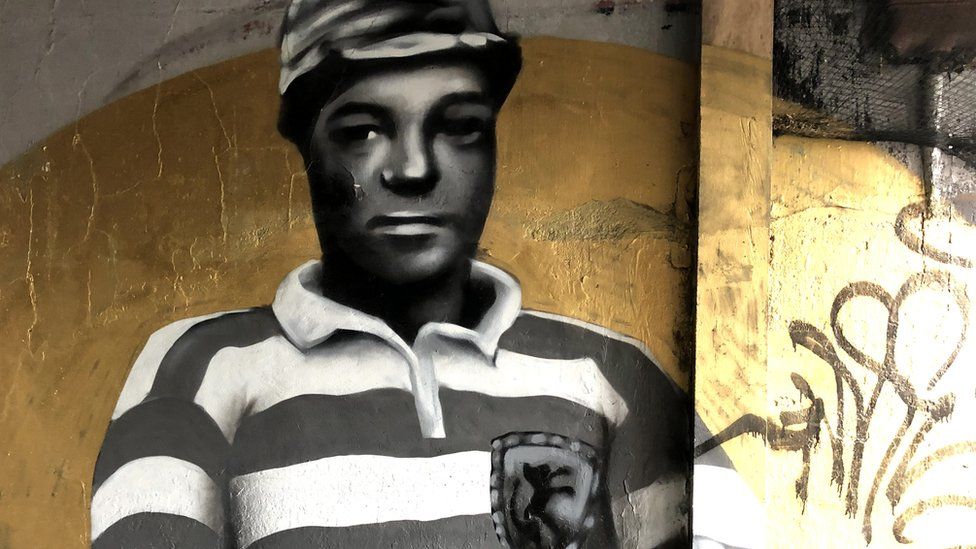 Despite this an FA inquiry threw out allegations that Bootle were paying Watson, leaving the question of whether he was a professional player unresolved.
Watson later retired from football and died in London on 8 March 1921.
A headstone on his grave in Richmond Cemetery has been restored after a fundraising campaign.
In April 2021 a mural in Glasgow's Shawlands depicting Andrew Watson was vandalised with racist graffiti.
The then Justice Secretary, Humza Yousaf, condemned the vandalism which he said spoke to the fact that racism still exists in Scotland.
Source: BBC.com
The Guyanese born black Scotland captain whose team trounced England